Beautiful Skin Principles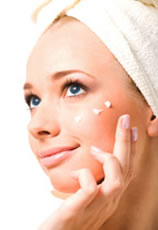 Moisturize Regularly
Using the correct Bello Skin Care moisturizer that hydrates the skin with water is the secret for creating dewy-fresh skin. Skin that is well moisturized will be soft and supple and reflects a healthy glow while showing the effects of aging less quickly. Moisturizing also helps to prevent the skin from drying and chapping, effectively slowing down the aging process.
Drinking 6-8 glasses of water daily and eating vegetables and fluid-rich fruits help to normalize dry and oily conditions. These fluids are essential for making sure your skin receives the necessary moisture.
Moisturizers or humectants attract moisture to the skins surface and holds it there. Bello Skin Care Essentials are specially designed with pharmaceutical grade ingredients to maximize the protection and healing of your skin.