Beautiful Skin Principles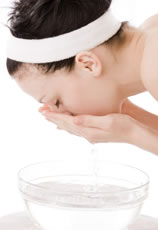 Cleanse Faithfully
Cleansing the face daily with a fresh, soft, clean cloth is very important. Additionally, washing your face daily removes your makeup and helps to slough off dead skin cells, which if not removed, tend to give your complexion a dull look.
Cleansing will also help remove the dirt, dust and other environmental pollutants that build up which block the sebaceous pores and prevent the glands secretion which come to the top of the skin to help fight infections and toxins. There is also a glow and warm shine that is produced by the cleansing process.
It is recommended that you wash twice daily – in the morning and evening. Always use a cleanser that is correct for your skin type, and soap is not recommended. Be sure to reference the Usage Guide for the specific Bello Skin Care products that are formulated especially for your particular skin type.