Beautiful Skin Principles
Beautiful Eyes
Look 10 Years Younger!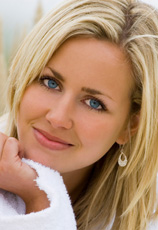 The skin around your eyes is very tender and sensitive…it is usually the first area to show visible signs of aging. Fine lines, dark circles and puffiness tend to show up in this special area. Knowing more about how your body functions allows you to be more cognizant of its special needs. Heredity can be a partial cause for circles, but they also may be an indication of illness or lack of sleep. Fine lines and puffiness also need special treatment. Eye treatments focusing on organic beauty.
Bello Skin Care Essentials has special products that were created just for the eyes to help diminish lines, circles and puffiness. Bello Eye Treatments are special applications that are specifically designed for the area around the eyes and the delicate areas of the neck and upper chest. If take good care of your eyes and face, you will look up to 10 years younger. (See Special Eye Treatments)
In conclusion:
Get restful sleep.
Use specially-designed products for the delicate area around the eyes.