Clinical Results
Matrix Booster – NEW!
Spider Veins: Clinical studies showed a reduction of spider veins by 35% within 4 weeks and a 41% reduction within 8 weeks.
Dark Circles: Clinical studies show a reduction of dark circles by 11% within 4 weeks and a 25% reduction within 8 weeks.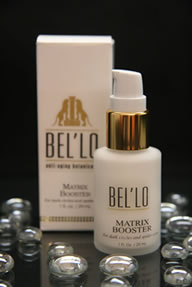 This new formula has a multitude of applications: to reduce the appearance of dark circles and spider veins found on the face and the legs, to increase the integrity of the extracellular matrix, to decrease skin redness and to increase skin firmness and elasticity. Anti-oxidants of Japanese Green Tea and Vitamin E are also added to fight the damage caused by free radicals.
This product strengthens the skin barrier function by increasing the skin's thickness, decreases skin redness and irritation and prevents irritation due to physical and chemical aggression, retards the appearance of fine lines and wrinkles, promotes skin hydration, and effectively reduces the appearance of spider veins on the face.
ycosaminoglycans, Sodium Chondroitin Sulfate – (Fish Cartilage) Developed to inhibit enzymes that destroy the skin's collagen network. Helps to improve the protective functions of the skin as well as to reduce and appearance of spider veins and dark circles under the eyes. Increases cohesion of the extracellular matrix of the skin tissue.
Chondrus Crispus Extract – Sea kelp found in the colder coastal waters of North America. High in silicon, which is believed to help the skin from wrinkling and sagging.
Chamomile (Anthemis Nobilis) Extract – Known for its calming and soothing properties.
Camellia Oleifera Extract (Japanese Green Tea) -- Acts as an effective anti-oxidant to scavenge free radicals. Reduces skin irritation and redness.
Tocopheryl Acetate (Vitamin E) – Anti-oxidant that protects the skin from free radical damage caused by the environment (UV radiation, chemical pollutants) and certain lifestyle choices (smoking and drinking).