Clinical Results
Rapid Response Line Filler – NEW FORMULA!
Clinical test results show a decrease of –7.5% in forehead expression wrinkles after one hour and 12% after 6 hours.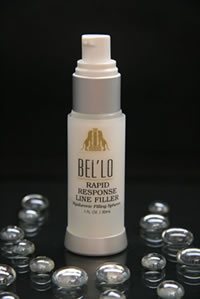 Hyaluronic Filling Spheres are composed of a mixture of high and low molecular weight hyaluronic acids, perfectly accepted by skin tissue. They are incorporated in the oily phase of this formulation in a dehydrated form to better penetrate the skin.
When they are applied, they easily lodge in skin tissue depressions (wrinkles) where they progressively but rapidly rehydrate by taking up water that evaporates from the skin. This physical action leads to a volume change of Hyaluronic Filling Spheres in the epidermis that almost immediately smoothes deep wrinkles such as expression wrinkles, at the same time increasing the long-term hydration of the upper layers of the epidermis.
Key Ingredients:
Squalane – replenishes moisture loss
Sodium Hyaluronate – traps moisture to the skin
Bambusa Vulgaris Extract – Bamboo Extract rich in minerals
Tetrahexyldecyl Ascorbate – Vitamin C
Ahnfelitia Concinna Extract – Bio-fermentation Red Marine Algae from Hawaiian Islands incorporates enzymes and minerals that are beneficial to the skin and increases hydration.

'